Cross Pointe Insurance Advisors, LLC has a long and trusted history as one of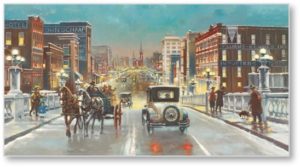 the oldest and largest insurance agencies in Arkansas. The Allen Kennedy Agency was founded in Fort Smith in 1889 by Allan Kennedy, first president and founder of the statewide Independent Agents of Arkansas. In 1946, the agency became known as Kennedy, Albers & Phillips when Sam H. Phillips, Mr. Kennedy's nephew, joined the agency. Kennedy, Albers & Phillips then purchased Arkansas Valley, the second oldest agency in Fort Smith in 1982. The name was changed to Phillips, Foltz, Pryor & Associates, and was later shortened to PFP Insurance until 2004 when it merged with Johnson, Moorman and Russell to become a new entity named JMR/PFP Insurance.
After its merger in 2004, JMR/PFP quickly became a leader in Property and Casualty Insurance, Group Benefits and most recently Financial and Life products.  In 2014, JMR/PFP became known as Cross Pointe Insurance Advisors.
Our goal continues to be to educate and service communities throughout Arkansas, Oklahoma, Texas and beyond. Through our independence, we strive to educate about the best options for insurance needs. We can provide an assessment of your insurance needs with a choice of which package fits you best.
We remain dedicated to providing our customers in throughout the United States with the best coverage at competitive rates. Just make a call to one of our agencies, and we can shop your coverage through many top rated companies. With our professional staff, we can be your liaison with the insurance carrier in the event of a claim. We work for you, not the insurance company.
Give us a call at 479-785-2912 or contact us through one of our quote forms, and we'll be happy to answer any of your insurance questions.