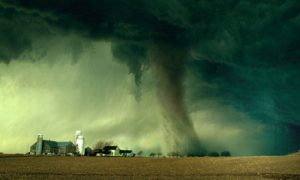 With the potential for severe weather always looming this time of year, we would like to share some basic information you can utilize for the safety of your family and business.  Having an emergency procedure in place for home and office is a good starting point.  Here is an example of an emergency plan for tornado/severe weather:
Prior to a tornado/severe weather occurrence:
Stay aware of outside weather conditions.
Monitor local radio, television, weather apps and NOAA weather radio frequencies for alert status.
Designate a shelter area in your home or place of business, preferably in a storm shelter or interior room.
If a tornado/severe weather warning is issued (meaning a tornado has been identified or that severe weather is approaching):
Alert all employees/family members and direct them to proceed to the designated shelter area.
Once in the shelter area, all persons should assume protective positions against or near walls and away from doors and windows.
All persons are to remain in the shelter area until danger has past.
After the warning has expired and danger has passed, you should inspect the premises for damage, take photographs and notify your insurance company of the occurrence.
If damage assessment warrants, call 911 to report the occurrence and evacuate the building/home.
Tornado Warning Signs:
Dark, often greenish sky
Large "wall" clouds
Large hail
Loud roar (similar to a freight train)
FACTS ABOUT TORNADOES
Tornado wind speeds can reach 250 miles per hours.
Tornadoes can be a mile wide and travel on the ground for as many as 50 miles.
Tornadoes have been reported in all 50 states and have happened in all season.
BE AWARE AND BE SAFE!