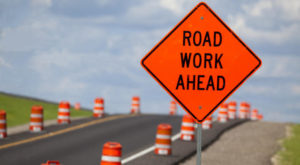 We've all run into road construction on our daily work commutes and weekend travel.  While it's not always convenient to slow down or stop to accomodate the construction barriers, it is of the utmost important to be cautious and courteous in construction zones for the safety of road workers, fellow drivers and yourself.
Many areas have implemented "Give Us a Brake" campaigns to educate drivers on the best way to prevent accidents or fatalities in roadwork areas.  By following these tips, you can do your part to make sure our roadways are safe workplaces.
Pay attention – there may be sudden changes in traffice flow, like speed reductions and shifted lanes.
Never talk or text on a cellphone and avoid other distractions, like eating or playing loud music.
If a flagger is directing traffic, follow all of their instructions.
Turn on your headlights – rain or shine, day or night.
Keep a safe distance between your vehicle and construction workers, barriers, equipment or trucks.
Be Aware, Be Safe!
(Tips from Auto Owner's Loss Control Newsletter, September 2019)